PODCAST ADVERTISING
So much more than downloads.
WhyPodcasts.org was created because of the need for more sponsorship and advertising education for both the podcaster and the potential advertiser. Within this website, you'll hopefully find everything you need to know about sponsorship and advertising on a podcasting platform.
There is a lot of other information out there, but much of it does NOT cover sponsorship and advertising on a podcaster's PLATFORM. And this is the most important part. Because a podcast is so much more than just a podcast. Many podcasters starting out have a HUGE fanbase on their blog or social media. In other cases, podcasts have successful businesses with a popular website, and can utilize that for a sponsor's exposure while the podcast itself grows it's listener fanbase. However, the podcasting "industry standard" just focuses on downloads, and that standard only applies to HUGELY popular shows and GIANT companies.
But can't smaller shows get advertisers too? Of course they can! And they should!
The problem is that many companies don't know enough about podcasting to understand the value of a sponsorship or advertisement there. And podcasters know the value, but don't know how to explain what they can offer. That's why this site was built.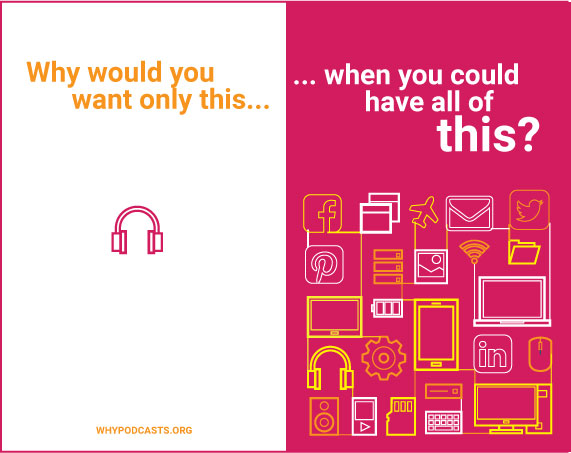 ---
What A Podcast Is....and What It Isn't
The word "podcast" comes from the first portable, DIGITAL music device, known as the iPod. In fact, it's a combination of "iPod" and "broadcast." The first iPods allowed people to carry their music around as digital files instead of tapes or CDs - and in addition, allowed people to create their own digital files for OTHERS to listen to as well, called podcasts.
A podcast is NOT a random piece of audio on a company's website.It's meant to be a syndicated series, and much like our current television media, can be offered and/or downloaded all at once, week-to-week, or in season format.
Podcasting began in 2004 and was a popular, yet somewhat underground medium for a long time. People who write about podcasting having a "renaissance" don't realize that the popularity hasn't surged, rather, it's steadily grown over time since inception. What HAS surged, perhaps, has been media coverage. More media are noticing podcasts and writing about them, and as a result, the podcasting medium is being thought of as a viable channel for media buy and company investment.
TYPES OF PODCASTS
Types of Podcasts
There are lots of different types of podcasts. Originally, they were mostly in radio show format, which could include one host, or co-hosts in any number. Typically 2 or a panel of 3-4. As podcasting (and all media) changes, the formats change as well. Now there are all different kinds of formats, such as: